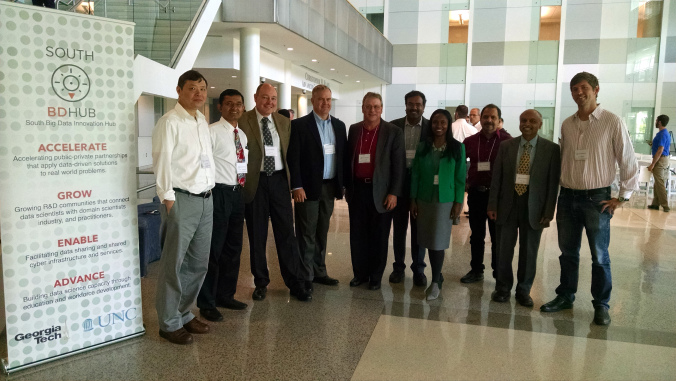 On August 25, nearly sixty people gathered for a workshop on Data Infrastructure for Materials and Advanced Manufacturing. Attendees came from throughout the southern US to attend the event, sponsored by the South Big Data Hub and the Computing Community Consortium, to assess and deliberate on the current state of the data infrastructure supporting the accelerated insertion of new and advanced materials into commercial products.
Stakeholders from industry, academia, national laboratories, and nonprofits convened to share their perspectives on challenges surrounding the use of data and informatics in materials discovery and development, and advanced manufacturing. The expertise of participants spanned materials science and engineering, design and manufacturing sciences, and computer and data sciences.
Speakers from industry included Rick Barto of Lockheed-Martin, Kaisheng Wu of Thermo-Calc, Bryce Meredig of Citrine Informatics, Ramesh Subramanian of Siemens, and Rajiv Naik of Pratt & Whitney. In addition, Chuck Ward from the Air Force Research Laboratory and Turab Lookman from Los Alamos National Laboratory also presented from their perspectives.
Following the talks, a series of smaller concurrent breakout sessions formed to discuss feasible crossover areas between industry and academic research. Michael Valley of Sandia National Laboratories moderated the session "high impact applications of data science in the materials-manufacturing sector." Daniel Wheeler from the National Institute of Standards and Technology moderated a discussion on "challenges in the automation of the materials data life-cycle." Raymundo Arroyave from Texas A&M University moderated a session on "education and training in materials-manufacturing data science and informatics." David Fries of the Florida Institute for Human & Machine Cognition was the moderator of a discussion on "the materials-manufacturing innovation cyber-ecosystem."
The whole group then reconvened for two all-inclusive round table discussions. Jason Hattrick-Simpers from the University of South Carolina, and David McDowell of Georgia Tech drove a discussion on developing a set of objectives and an associated roadmap for those. Surya Kalidindi of Georgia Tech led a discussion on establishing an advanced materials and manufacturing "Spoke" at the South Big Data Hub.
After a reception poster session, the event closed with a call to action to collect resources, create an online community for locating resources and for networking, and to develop an administration transition paper. Co-Executive Director Renata Rawlings Goss is currently seeking leadership roles in developing resources for this new community. To participate, please contact her at rrawlings.goss@gatech.edu.
Date Published
Wednesday, September 14, 2016 - 12:00 pm